The Platform for Digital Quality Assurance
You are looking for a solution for your own digital documentation?

Do you need 24/7 temperature recording?

Do you create audits for your or other companies?
Flowtify's HACCP, IoT & AUDIT modules enable you to implement all this efficiently, safely & cost-savingly in one system – all from one source.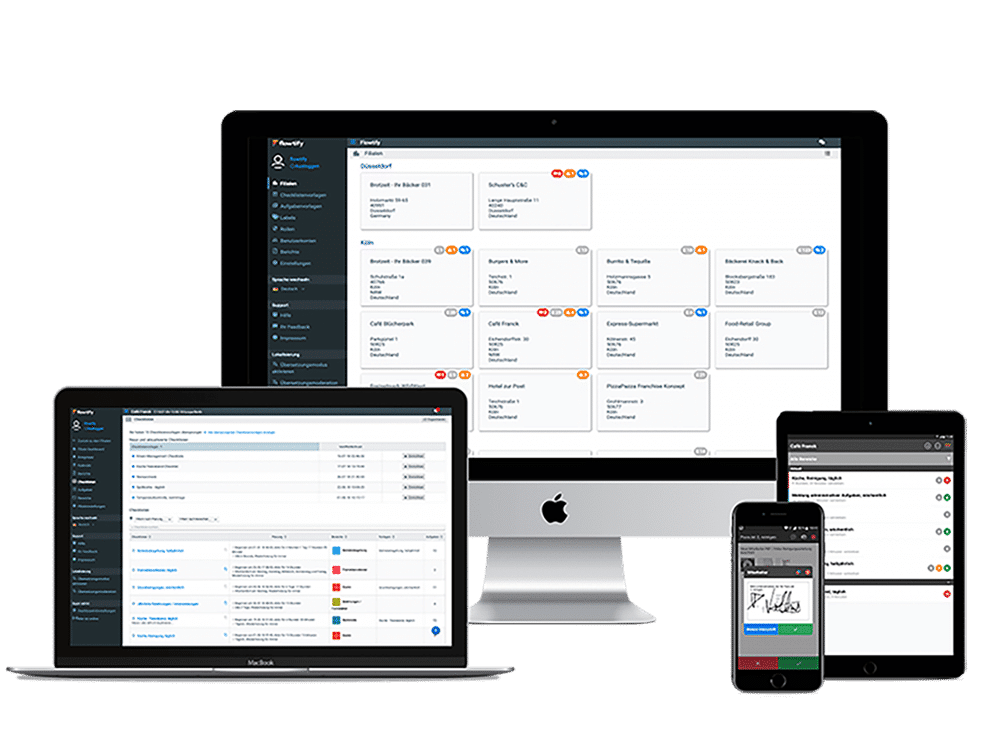 More Safety with flowtify
Immediate Instructions
The Web Dashboard and our notification service enable you to identify any lack of documentation across all stores, so that you can react in a prompt and preventative way to problems and errors.
Store Management
Store management enables updates and information to be implemented immediately at all stores, so that everyone involved is always at the same level of information.
Saving Time & Costs
Our digital solution eliminates all the work involved in printing, collecting, checking and archiving paper lists, saving you time in your day-to-day operations and reducing paper costs.
Report Management
We archive your documentations GDPR-compliant and available 24/7 for 5 years in data centers in Frankfurt am Main, so that the annoying archiving of folders and missing documentation is no longer necessary. The flowtify software is EU VO 852/2004 compliant and therefore approved by the BVLK.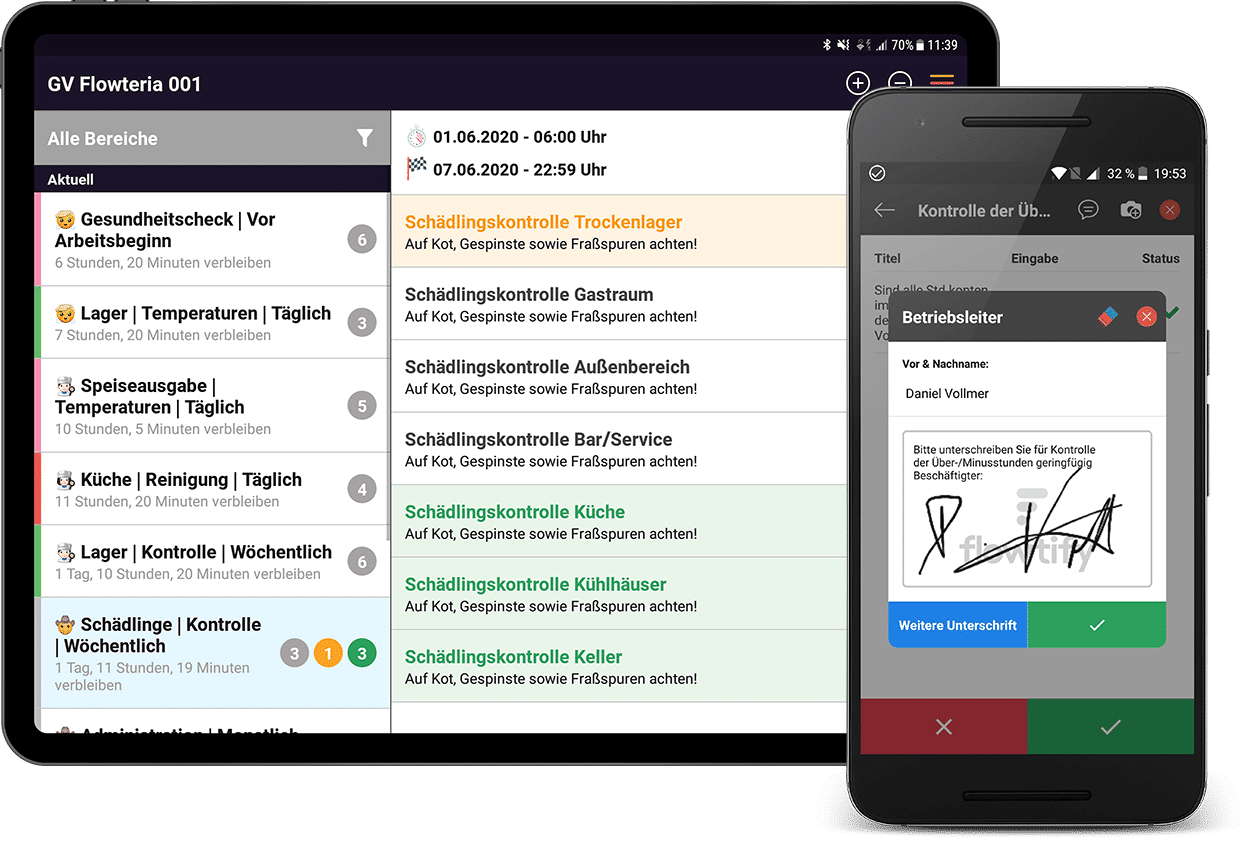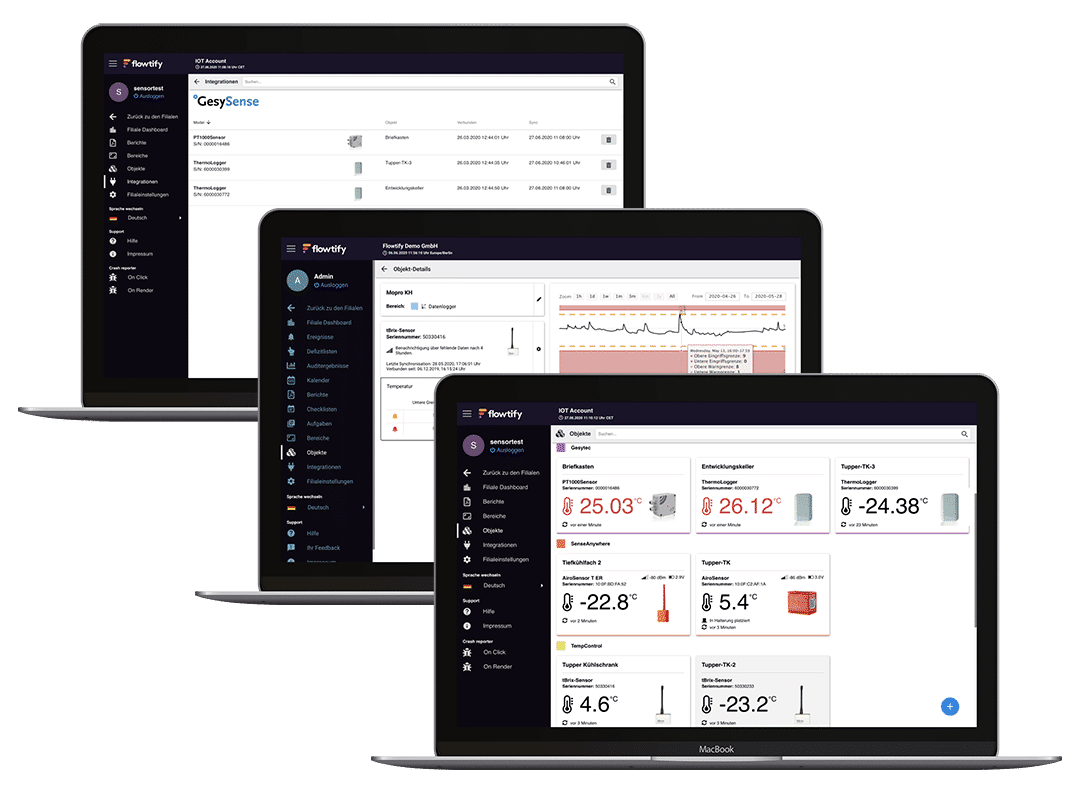 24/7 Monitoring
Sensors for continuous monitoring of your cold warehouse parameters and the flexible setting options allow you to control your CCPs easily and effectively.
Multiple Integrations   
Our integrations with various providers can be easily combined via a web dashboard, saving you unnecessary switching between different platforms.
Permanent Safety
Through our notification service, you will receive real-time feedback on deviations and can prevent the loss of products even after work or on a rest day.
Assistance for Staff
The automated measurements reduce the workload of employees in daily monitoring, allowing time for other important activities.
Efficient Preparation & Follow-up
Save time & money by reducing the time needed to implement our flowtify AUDIT module, by simplifying the preparation and post-processing of an audit and by offering simple, intuitive and flexible configuration options.
Customized Templates
The creation and availability of audit templates enables a fast & individual tailored audit for the company and auditor, and this worldwide.
Economic Workflows
Short communication channels through direct access to the audit results after inspections & the processing of deficits directly on the flowtify AUDIT interface via online deficit list as a useful alternative to the paper pad.
Informative Reports
flowtify AUDIT ensures an even more secure brand protection by increasing the economic efficiency based on the comparative evaluations on city, regional or country level and the increase in security through the unified standards.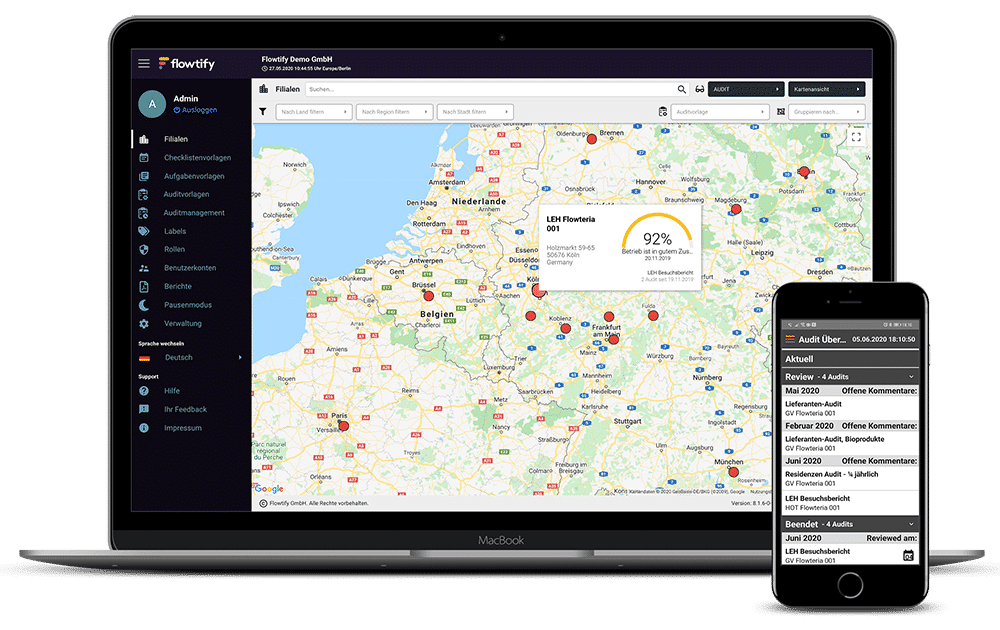 Your Benefit through the flowtify platform
Saving time for Employees
Transparency for Businesses
Why you should use the flowtify platform?
successful tasks
last month
Saved pages Paper
last month
What our Customers & Partners say about the flowtify platform
aktiv Markt Manfred Gebauer GmbH
For me, as the person responsible for quality management & authorised manager, with 6 grocery stores and about 500 employees, the question has long been asked how we can easily document all the specifications and daily checks, in all languages, to meet the demands and assist employees in their daily work. During my research I came across Flowtify! I got in touch with the managing director in an uncomplicated way & started the digitalisation project. To this day, I am absolutely amazed at how our employees work with the system and even improve it on the fly with the Flowtify staff. This is of course very important as the specifications & needs also evolve. I would also like to mention that the authorities are also very impressed by the absolute transparency. Thanks to the whole Flowtify team ! Keep it up.
KRUSCHINA Betriebsverpflegung
You know the situation, you come to a store and would like to check the logs and search for your way around a chaotic archive system, cannot figure out the values & the documents of the week before last have disappeared? Yes, that is really a bit exaggerated, but not far from reality. Compliance with quality management and HACCP standards in all our various stores was one thing, but being able to check them was another. Controls of individual values are unnecessary, all evaluations can be carried out centrally and the documentation is complete. What a great achievement, thanks to Flowtify.
Hans im Glück Franchise
As a franchise system, our top priority is to guarantee a high quality standard in every burger grill. Flowtify proved to be a great tool for us to optimize our processes within the burger grills. We now have the possibility to follow the implementation of our hygiene concept digitally and seamlessly. In addition, flowtify helps us to reduce paper consumption and to make our operations increasingly sustainable.
delphi Lebensmittelsicherheit
A vision of the future can be found in the digital kitchen. All information comes together in the kitchen manager's office. Flowtify makes this possible with its integrations. Besides, Flowtify is nice. A little bit of analog has to be there as well.
Lehnerhygiene
As an auditor for food hygiene, it is my job to write & evaluate several reports every week. This part of my work has always been the less enjoyable for me. It has also taken me many hours of work to analyse the photos & fill in bad audit templates per client.Thanks to flowtify Audit this is a thing of the past! My audits are now even more professional and the report is generated in a flash. In the past, my customers often had to wait days for their report, today they receive it on s premises. flowtify Audit saves me at least 60% of the time needed for hygiene audits and my customers benefit from this!
Mövenpick Hotel Berlin
With Flowtify, we have a simple, clear, modern & precise HACCP documentation in all areas, which fits perfectly into the hotel industry, is easy to understand, clear & helpful for the employees. It also eliminates the need for paperwork & the constant attachment of lists. Flowtify's support is uncomplicated, fast and solution-oriented, always helpful and professional. Both the Berlin Health Authority & the Fresenius Institute have been very positive about Flowtify & the transition to digital HACCP documentation went smoothly.
HACCPChef & Hollyfood
No matter what kind of gastronomy. Flowtify is an absolute must-have! With this tool our customers implement the HACCP documentation in a safe, lively and modern way.

At Hollyfood we use Flowtify to document all our processes. From the incoming inspection of products to the cleaning work. Our employees are enthusiastic and our quality assurance department can centrally monitor the processes at any time.